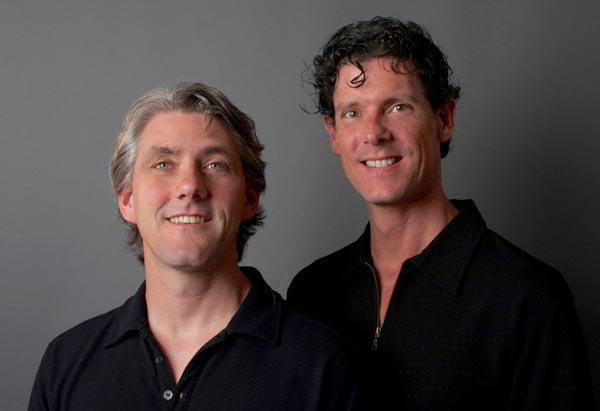 2M Architecture has provided architectural and planning services throughout Northern California. We are dedicated to creating beautiful, sustainable projects in which our clients love to live.
Partners in work and in life, Marc Lindsell and Mark Tetrault merged their firms and talents together in 2005 to form 2M Architecture. Their clients benefit from their joyful, synergistic inter-play, fusing their refined sense of architecture and design with a deep knowledge of engineering/technology and aesthetic experience.
We love a good challenge! It could be an unusual site (like a lot with steep slopes, cherished trees, landscape or views) or building (like a narrow shape or non-standard structure) or a specific need or request from the client that really makes us think.  When we have interesting clients and tough design challenges, we always do our most exciting work! When working with one such couple on a significant remodel of their home, the challenge was put succinctly: "We engaged you in order to have you design a sculpture that we can live in."
See our diverse PORTFOLIO OF PROJECTS which include modern homes, historic renovation, single family and multi-family residences.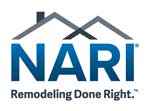 PRINCIPALS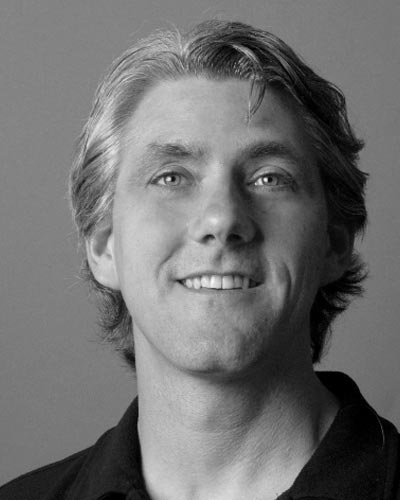 MARC A. LINDSELL
Principal
LEED AP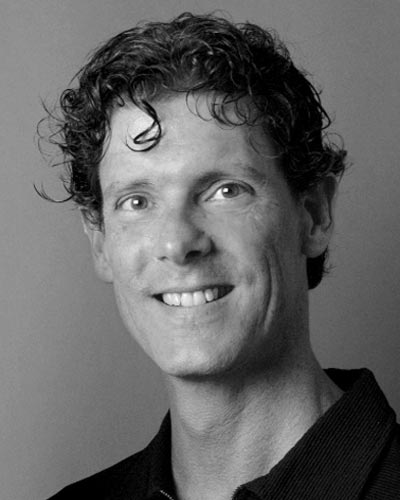 MARK TETRAULT
Principal
M.Arch.

ARCHITECTURE SERVICES
Form, structure, volume and light are some of the many factors that combine to create a memorable architectural experience. 2M Architecture creates high-performance buildings tailored to the site, use and goals of the owner.

ARCHITECTURAL INTERIOR DESIGN
Finish selection, lighting, furniture plans and color are comprehensively resolved in this service to provide a tailored fit between architecture, life-style and budget.

FEASIBILITY STUDIES & REPORTS
2M Architecture provides feasibility studies that balance the desired building program, project budget and regulatory parameters in order to achieve a successful design process.

MASTER PLANNING
For projects that will be built in phases, 2M Architecture can provide a Master Plan to guide the future design and construction of various project elements.

REAL ESTATE DEVELOPMENT
2M Architecture partners with property developers and their real estate professionals to create designs that add value to residential properties, from single-family dwellings to multi-family buildings.

GREEN CERTIFICATION
Sustainable design principles and specifications inform every project at 2M Architecture. LEED certification and GreenPoint rating services are available for those projects where a higher level of building performance is required.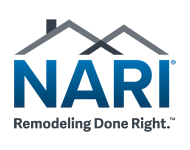 NARI (National Association of Remodeling Industry)
Awards for Entire House Design, Additions and Kitchen Remodels
Awards for Entire House Design, Additions and Kitchen Remodels NARI brings together people who work in and with the remodeling industry, who grow from one another's experiences. The firm has been a member of NARI since 1996 and one of the principals, Marc Lindsell, has served two terms as Chapter President.
2017 – Residential Addition ($100k-$250k): First Place, Banks Street, San Francisco, California
2009 – Entire House ($500K-$1.0M): First Place, Wilson Street, Palo Alto, California
2009 – Entire House ($250K-$500K): First Place, Nadina Street, San Mateo, California
2009 – Residential Addition ($250K-$500K): Second Place, Harvard Road, San Mateo, California
2008 – Entire House ($500K-$1.0M): First Place, Cortez Avenue, Burlingame, California
2005 – Design/Addition Award ($250-$500K): First Place, Fulton Street, Palo Alto, California
2004 – Entire House Design ($250-$500K): Merit Award, Carmelita Drive, Carlos, California
2000 – Entire House: Second Place, Emerson Street, Palo Alto, California
1999 – Design/Kitchen Remodel: Second Place, Ellsworth Street, San Francisco, California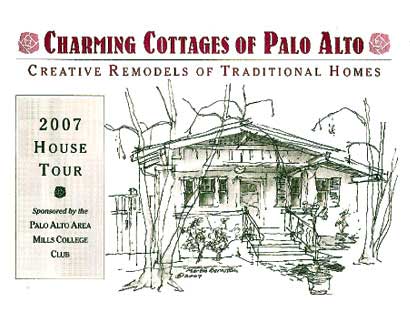 Charming Cottages of Palo Alto: 2007 House Tour
Two Featured Homes
2M Architecture designed two of the five homes featured on the 2007 House Tours, Charming Cottages of Palo Alto. The selection was based on creative remodeling of traditional homes.
Featured Home #1: Emerson Street, Palo Alto, California
Featured Home #2: Charming Bungalow, Palo Alto, California
What Our Clients Have to Say

We found Marc Lindsell while interviewing 4 architects who all came highly recommended. When Marc left our house after his interview, my husband turned to me and said "He's going to be hard to beat." He really shone so much brighter than the others right from the start. Marc is patient, calm, and a problem-solver. We highly recommend him."
— GENE AND KATHERINE G.

We wanted something different in Palo Alto. We had a small project, but wanted something more unique than recent designs I had seen. This was the firm to work with! They created a wonderful living space — addition and remodel — within an older 1949 house to accommodate our kids turning into teens, but within the confines of our smaller budget. They came up with multiple designs and we ended up adding an additional family room and remodeling the living areas, including the kitchen. Marc and Mark not only came up with great ideas for the limited space, but helped us with design choices as well. They were great communicators and worked very well with our contractor, making sure we got what we wanted and needed. I'm very grateful for many choices that they urged me to make, which is hard because you can't predict how you will use the space (glass doors to the family room, with a unique sizing that works PERFECTLY). Their design brought more light into the house as well and combined all the spaces into a cohesive living space."
— K. A. HICKEY

The architects at 2M, Mark Tetrault and Marc Lindsell, are extremely competent and easy to work with. It is a piece of cake to get on the same page with them because their end goal is a happy and satisfied client. They have done various projects with us, including a super complicated modern stair addition, and a lower addition. Each project has come out exactly as the client hoped. On top of this they are easy to contact and to coordinate with on plan questions and they show up at the job site at the drop of a hat. Thank you for your excellent works and we look forward to doing more projects together!"
— WALLACE REMODELING

It is hard to decide which was the best part of hiring Mark and Marc (otherwise known Mark and Marc, or the Marckitects (Markcitects? Marchitects?) as the architect for our major kitchen-plus-a-few-other-things remodel. Was it how easy and fun they were to work with, or their keen knowledge and style sensibilities, or their perceptive communications skills, or was it the lovely end result: a seamless kitchen/rest-of-downstairs integration about which we would change nothing? I guess I would have to say that it is the end-product — a well-thought-out and managed renovation that has increased our enjoyment of our home tremendously. I have wholeheartedly recommended them to friends."
— RANNE P.

We have been blessed to work with 2M Architecture more than once and always look forward to new projects involving these two talented architects! Mark and Marc offer the truest of true Professional Services — both being true to their professional abilities, but also being able to excel at their mastered skills, while never forgetting the essential balance of structural integrity and supreme aesthetic appeal and finish! This dynamic duo offer the gentle yin and yang EVERY project needs but so many projects don't receive.
With Mark and Marc aboard — we can count on professional transparency, clear communication, professional demeanor, timeless style, and a classy presentation of their abilities, with sensitivities to diversity in cultural architecture! There are not many Architects that define the old-school role with a twist of modern flare — but Mark and Marc have mastered achieving this beautifully!
We truly don't know of a better team and hope to work with them both, whenever a project comes to the table!"
— TAPIA CONSTRUCTION & RESTORATION

Outstanding design and great to work with. We'd definitely use 2M again."
— JONATHAN AND FRANCES A.

All you (really) need to know: these talented guys are wonderful and you will be thrilled beyond words! They listen, understand, digest, recommend, and collaborate. This resulted in top quality design solutions, and coupled with expert guidance and evaluation of the designs, lead to a very successful outcome. They respond to questions and issues in the most timely way, showing passion and commitment to every detail. They exact the same high standards of the contractor during the construction process as they do during the design phases. The renovation has brought me much joy and satisfaction, and knowing that I will work with them again in the future, makes it so easy to recommend them so highly!"
— SPORCHIE

I trained as an architect though I have never fully practiced. For my family's own home and kitchen renovation, we chose 2M Architecture (whom we affectionately call The Marchitects). We found Marc and Mark after passing by their small office and seeing the intriguing collection of project-related artifacts in the window…. They listen. They observe and question. Then they begin to define space with an elegance and practicality that addresses the clients' concerns and wishes while adding an esthetic that may not have been at all obvious before. Look simply at the diversity of their portfolio. The thread there is the imprint of the client, guided by the sure hand of two consummate professionals who offer a wide breadth of capability in all building-related disciplines. Ironically, they do control, but in a way that is a check and balance on other vendors on the project. These are great fellows to work with. Could not recommend more highly."
— W. CHIU