WHAT I LOVE ABOUT BEING AN ARCHITECT (PART 2)
Being an Architect has many satisfying aspects, but one of my favorites is being able to see your vision for a space become real before your eyes.  On a recent trip to Boston, I had the chance to see the very first house I designed: a custom residence for my Mom.  Completed over 20 years earlier, Mom and her husband  still love living in the spaces we crafted together.
The exterior is in the "Tudor Style" with a stone base course and "half-timber" and plaster walls giving the house a natural and timeless feel.  Its nice to see it with all the landscape looking lush (it can often take years before the landscape looks like what the design team envisioned)
The distinctive plan of the home is based on a symbolic representation of the marriage of the Owners.  Mom's personality is interpreted as the flowing and dynamic circle and her husband's as the orderly and stable square. These two perfect shapes, are different in "character" but "equal in area".  The intersection of these 2 shapes, which represents the beauty and essence of their marriage, lies at the center of the home and creates an armature from which the house and their life together grows.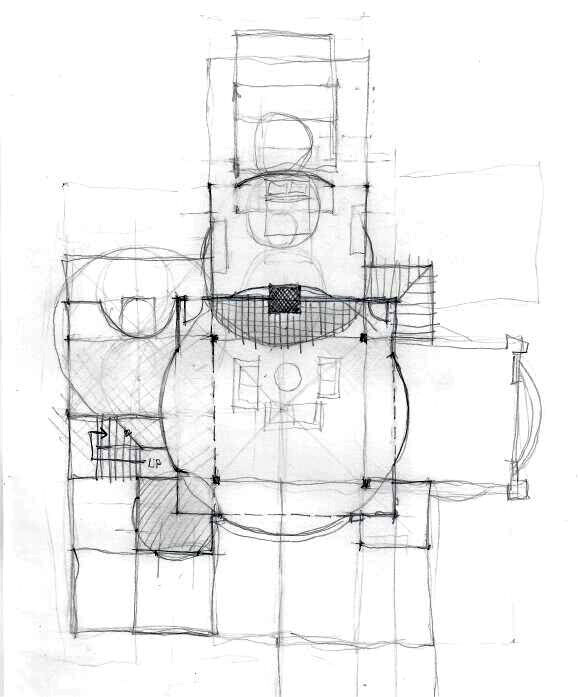 Squaring the Circle – a representation of 2 personalities
Soaring heavy timber columns support the 29-foot high vaulted living room and inspires the feeling of an intimacy of a 'room within a room'.  A stone veneer fireplace anchors the space and, with windows on all four sides, light gently spills in through the day.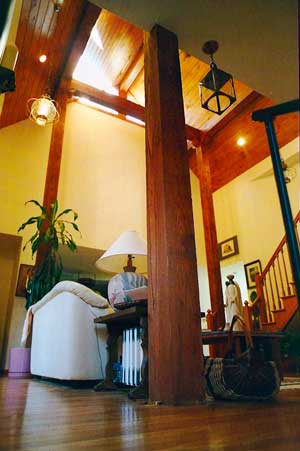 The Master Suite and all the public spaces are on the ground floor to allow the Owners to live in the house into their senior years.  A spiral stairway leads down to the basement that serves as a workshop and photography darkroom.
It's always a great experience to spend time in the buildings we design and even more enjoyable to see it working so well and looking so good after many years.  One of the joys of being an Architect!